CVA is your choice for vehicle graphics in Leicester. Professional installers and designers, CVA has created and applied van wraps for companies throughout Leicester, Nottingham and the Midlands. We can take your idea from concept to design to finished wrap. All in a matter of days. And we guarantee your new vehicle graphics will turn heads and promote your business.
For professionally designed and applied vehicle graphics in Leicester and beyond call CVA on 01455 372 007.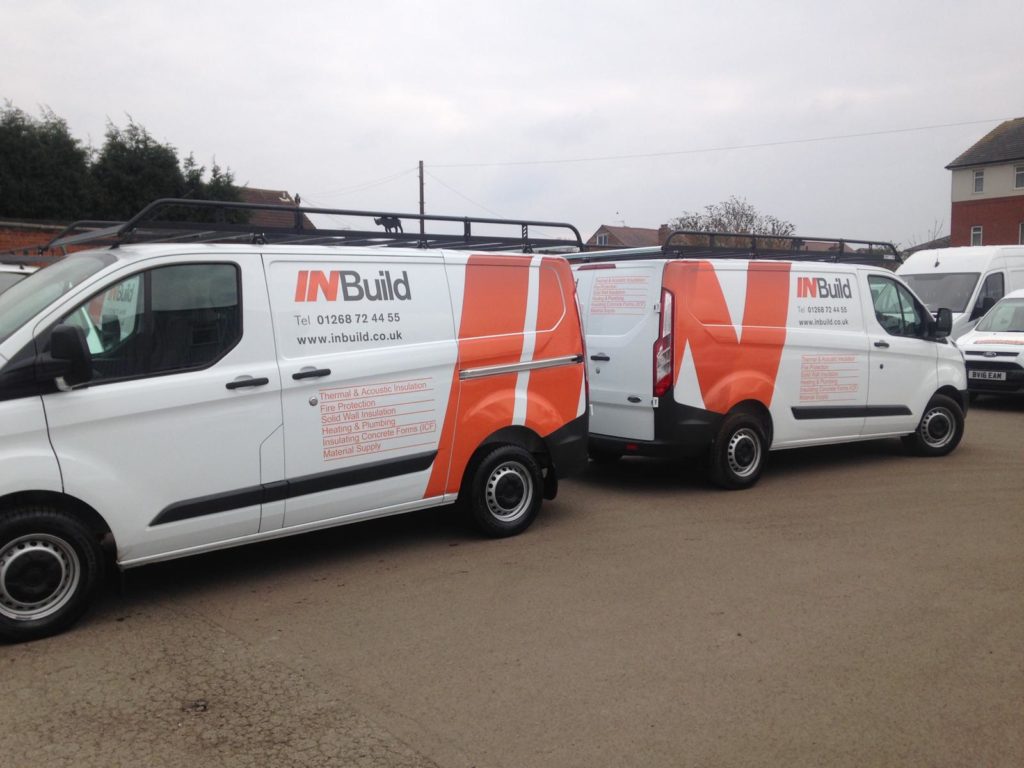 More than just a van
Your van is vital to your business. It carries cargo, hauls supplies and transports your service crews. But as well as its everyday use it has another role. It's often the first impression a customer has of your company. It needs to be a good one. Professionally applied vehicle graphics and signs will make your van stand out and creates the great first impression you need with new customers.
From a simple logo and lettering to a full van wrap. CVA can transform your plain works van into a colourful mobile advertising board for your business.
High-quality van graphics can be a great advertising tool. This is something CVA director Michael Brooks knows only too well. "We've seen the power of vehicle graphics ourselves," he said. Our vans are always out and about in Leicester, Loughborough and Coventry. And we regularly get calls from customers who have seen our livery and phone number.
"Without a full van wrap, we wouldn't have been able to put our name in front of those customers. We wouldn't have received a call from them.
"I know I'm biased. But I also know that great vehicle graphics design really works and will pull in new customers for your business."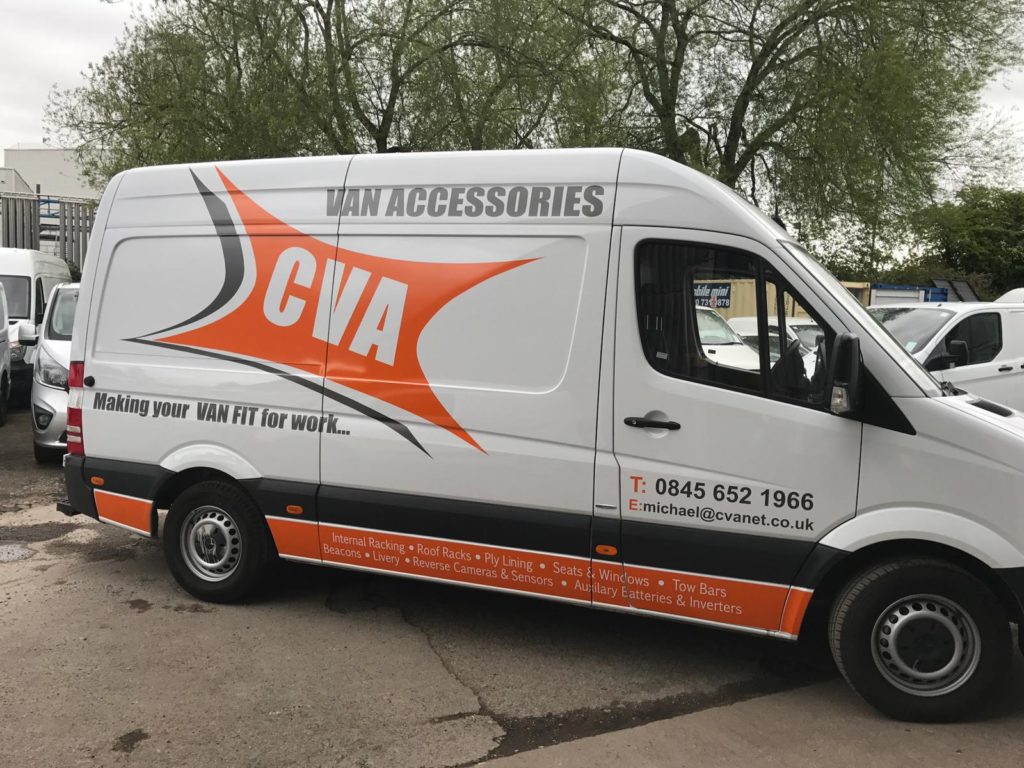 The benefits of vehicle graphics
We know about advertising, and you can read more about that here, but what other benefits are there to having your van wrapped?
Creates a great first impression of your business.
A full van wrap helps to protect your vehicle's bodywork.
Your van and brand will be instantly recognisable.
Vehicle graphics can be permanent or temporary for special promotions.
A van livery provides consistent branding right across your fleet of vehicles.
FAQ – Vehicle Graphics
Who does the design?
We can design your vehicle graphics for you. We can do everything in-house but if you have your own design team, we're more than happy to implement your own design. Your designer will have to take into account the specific measurements of your vehicle. But we can supply templates for your van if you need them.
How long do vehicle graphics last for?
Depending on the materials you choose your van wrap should last for at least three years. Probably longer. Laminating can extend this quite significantly.
What services do you provide?
If you're looking for any type of vehicle graphics in Leicester CVA can meet your needs. Whether you need simple lettering or a full van wrap our professional and qualified team can deliver the great results you're after. We can also apply Chapter 8 chevrons and side strips along with reflective graphics for vehicles which need to be seen. By the way if your vehicle is over 3.5 tonnes it must have reflective graphics. Contact us if you need further information about this.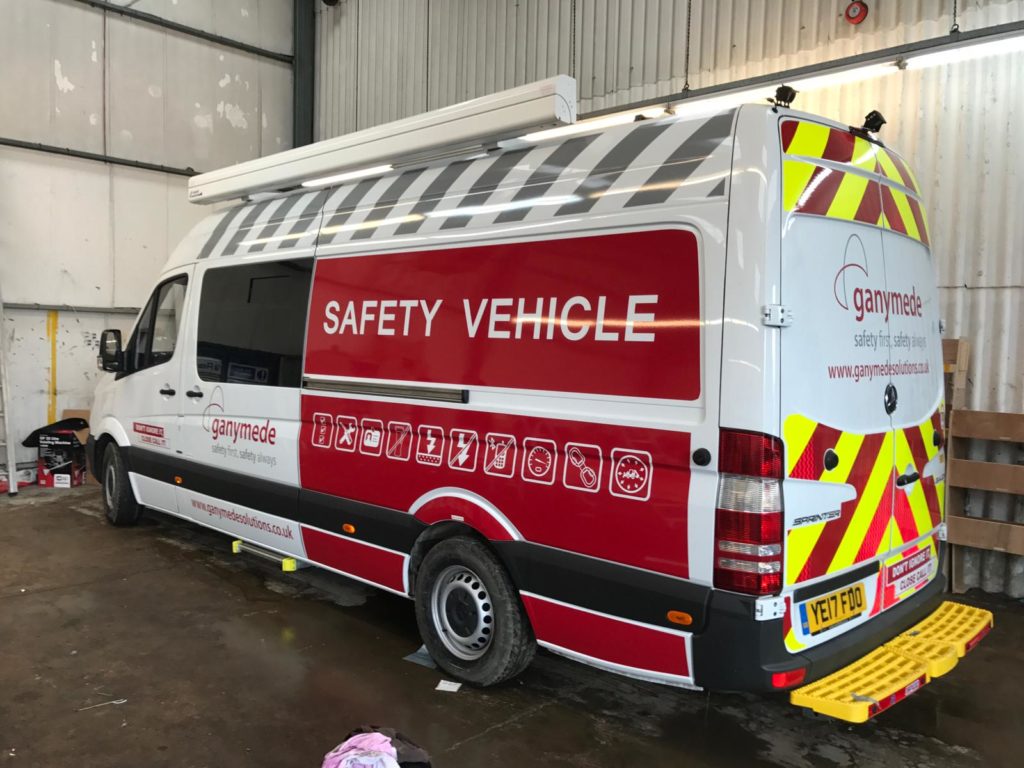 How long does the process take?
Unfortunately, this is one of those how long is a piece of string questions. But we can give you a general idea. The time to apply the graphics does depend on the design of course. But simple lettering can be completed in a few hours whereas a full van wrap can take a day and a half. However, you should remember we will need more time to clean the vehicle. The vehicle also needs to be acclimatised so the vinyl graphics can be applied. But whatever your timetable give us a call and we'll soon get your van on the road with sparkling new graphics.
What about windows?
Your van windows can play an important role in your vehicle graphics design. But there are safety implications to consider. You can't add graphics to the windscreen of course. But the way we apply graphics to your van windows allows you to see out of them just fine. Feel free to ask us for further details about window etched signs and graphics.
Which areas do you cover?
We supply professional vehicle graphics in Leicester and to customers from Nottingham, Loughborough, Coventry and the Midlands. Wherever you are we've got you covered.
Will the vinyl graphics damage my van's paintwork?
Far from it. The vinyl wrapping will actually protect the paintwork. The vinyl forms a protective coating which prevents scratches and scrapes. When the graphics are removed the van's paintwork will still be as good as new.
I'd love to have vehicle graphics to advertise my business but I lease my van.
It may not be an issue. Look at your leasing contract. Vinyl graphics are easy to remove. And they don't leave a trace. Because of this many lease agreements will allow you to wrap your van.
Is there any difference between vehicle graphics and van wrapping?
It's the same thing. Vehicle graphics is a catch all we use for vinyl van wrapping and vehicle livery. It can be applied to vans or cars but also buses, coaches and trucks. Basically, CVA can wrap any vehicle.
What's the next step?
It's an easy one. Just pick up the phone and call CVA on 01455 372 007 or you can contact us here. Whether you have one van to wrap or a full fleet we can design and apply your new vehicle livery. CVA are your first choice for vehicle graphics in Leicester.