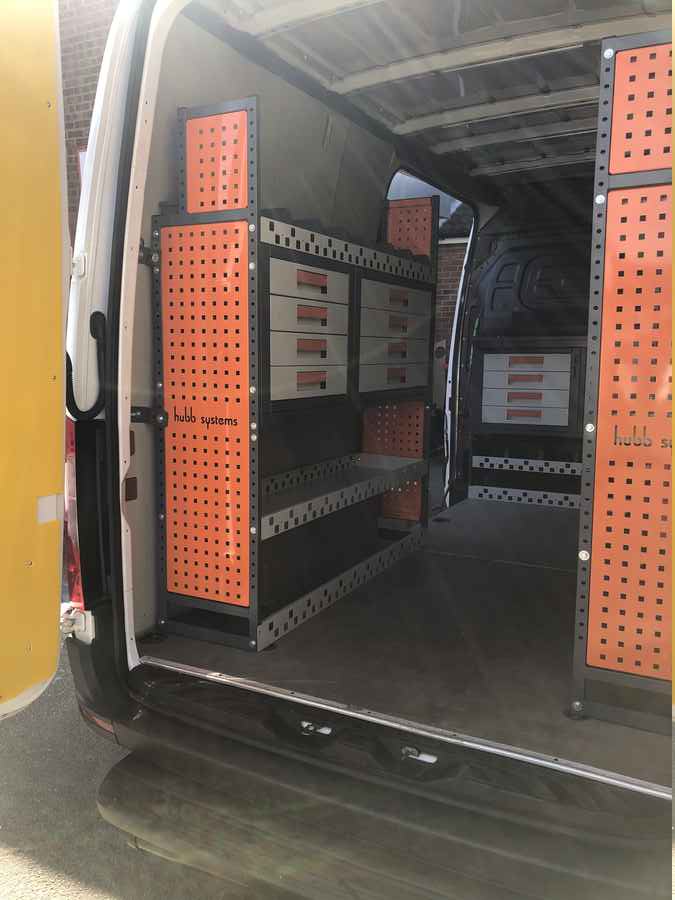 CVA van racking and shelving solutions allow you to get the most out of your works vehicle. We tailor our custom van racking fitting service specifically to you.
Maximise space, get organised and protect your tools and equipment with CVA van racking and shelving. Whether you have a single van or a fleet CVA can supply and fit the shelving you need to keep your van organised.
We've been supplying van racking in Leicester for many years and our designers and fitters have worked on hundreds of vehicles.
You can find out more about CVA and our van racking and shelving service by contacting us on 01455 372 007.
Choosing your van racking and shelving
There is no one size fits all. Your van is as individual as you are. And you'll want your racking and shelving units configured to suit the way you work. This is why CVA provides a custom solution for all our customers. We'll listen to your needs before designing bespoke storage designed just for you. And your van.
All of which sounds expensive. But don't worry. Even though we design, supply and fit your van racking and shelving you won't find a better deal anywhere in else in Leicester. Our van racking is custom – our prices are affordable.
But you can save even more by choosing our supply only option. We'll design and put together your van racking and shelving for you but will supply everything flat packed. You can then fit the units yourself. Not only is this cheaper for you but you don't need to leave your vehicle with us.
Some common van racking solutions
Although we can configure any solution for you the common components you can choose from include:
Van racking units
There are several different components used in our racking units. All of which can be combined into different layouts. This makes them extremely versatile. It also gives you so many options when it comes to finding the best layout for your van racking and shelving. The units include:
Fixing or mounting units:  These are essential. We can't secure the racking without them. The good news is we don't drill extra holes in the body of the van. And the mounting units themselves are unobtrusive and designed to take up as little space as possible.
Tool cases:  Every tradesperson needs to keep their tools secure. These strong cases make sure there's no damage in transit. But when it's time for work they're always easy to retrieve.
Drawers: Sometimes called cassettes the number and sizes of the drawers depends on your needs. The drawers are available in different widths, depths and heights. They can hold anything from tools to paperwork to accessories.
Drawer inserts: These are flexible so you can configure them to suit your needs.
File holders: Keeps all your paperwork neatly organised and easy to find.
Pegboards:  Traditional but still efficient storage. Keeps your tools accessible.
Van shelving units
The foundation of any van racking and shelving system.
Frame: Our frames are available in different sizes. They can be adapted to fit into any works van. Whatever your requirements we can customise a frame for you.
Frame extensions: They literally take your shelving system to the next level. They add height to your original frame. Extensions allow any configuration of racking to be built into the biggest of vans.
Shelves:  Drop into the frame to provide the secure and versatile storage all vans need.
Sliding shelves: A nice option to have and particularly useful for heavier or bigger equipment. Available in different heights.
Van workbench units
Turn your van into a mobile workshop with our workbench units. A great way to increase efficiency and productivity. Combine workbench units with our racking and shelving options to create the ultimate working van.
Workbench: Hardwearing metal bench top that fits across the length of the frame.
Doors: Neatly closes off areas of shelving.
Pegboards: Different sizes allow the flexibility of creating storage around the working area.
Other van racking components
Add the final touches to your van racking and shelving system with shelf mats, divider kits and other accessories including storage containers, straps and holders.
To discuss all your options call CVA van racking and shelving specialists on 01455 372 007.
CVA director Michael Brooks said: "If you're looking to get the most out of your works van you need the best racking and shelving. Here at CVA we've fitted out many vehicles for contractors and businesses in Leicester. Each one has presented a different challenge but our designers and fitters are experienced professionals and know how to maximise the space in any vehicle. Our custom solutions will ensure that whatever the make of your van, and whatever your business, we will design a bespoke racking system for you."
To begin the transformation of your van call CVA Leicester on 01455 372 007.